Indonesian cuisine is famous for its rich taste. This taste is, of course, produced from the use of various existing cooking ingredients, especially chili ingredients, which give a spicy flavor. The absence of spicy taste in Indonesian food makes the dish feel incomplete. Therefore, chili has a crucial role in perfecting Indonesian dishes, especially cayenne pepper, which can provide a spicy taste although small in size. Aside from being a cooking ingredient, chili is also often used as a side dish eaten directly with fried foods or made into chili sauce.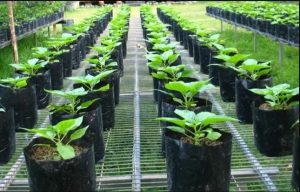 The number of interests and needs of the Indonesian people on chili makes this dish has promising potential if cultivated properly. Well, you can also start by producing the cayenne pepper.
1. Selection of Chili Seeds
Choose quality seeds.
The #1 way of cayenne pepper cultivation, all you have to do is choose the cayenne pepper seeds that will be used. You can get cayenne pepper seeds from cayenne pepper that is old and ripe. Make sure that you decide on good-quality cayenne pepper seeds! This is so that later chili can grow optimally as well. Then how do you know which cayenne pepper seeds are good or not? Well, follow these steps.
1. Choose cayenne pepper that is ripe and old.
2. Split the cayenne pepper and separate the flesh and seeds inside.
3. Collect all the seeds and soak them in water.
4. Remove the seeds that float and use the seeds that sink as seedlings.
5. Drain the sunken chili seeds and dry them in the sun to dry.
6. The cayenne pepper seeds are ready for sowing.
2. Seeds of Chili Seeds
Do the seeding on the seeds.
How to cultivate cayenne pepper #2 that you also have to do after choosing the seeds is to seed the seeds. Seeding is preparing plant seeds before planting in the planting area (in this case, polybags). Launching from KOMPAS, here are some steps in seeding chili seeds.
1. The first thing that must be done in the seeding stage is to prepare the seedling media. The media can be a mixture of soil that has been loosened with manure. The comparison is 1:1. After that, mix the two so that they are smooth.
2. After that, put the mixture of soil and fertilizer into an empty bottle and sprinkle the dried chili seeds earlier. As for the time of sowing, make sure that the chili seeds have a distance between each other and are not dense.
3. After the chili seeds have been successfully sown, then cover with soil. Flush with water little by little, and finally cover with dark plastic. Put the bottle in a shady place.
4. Water the chili seeds every day, and no need to add fertilizer again.
5. Shoots will appear after the fifth day of the seeding process.
3. Planting into Polybag
Move and plant the seeds that have been sown.
How to cultivate cayenne pepper that is good and right next is to prepare the planting area. If you don't have a large area for cayenne pepper cultivation, you don't need to worry. That's because you can outsmart it by using a practical polybag. Well, after the chili seeds are sown, and shoots appear, and are two weeks old, then it's time for you to move the chili to a broader planting medium, namely polybags. But before that, it's a good idea for you to prepare this polybag planting media. Here are some ways.
1. Prepare a lot of polybags measuring 40 x 50 centimeters.
2. Mix the loose soil with compost. The ratio is 1:1. Don't also forget to add leaf compost and wood charcoal that you have mashed.
3. After all the media is well mixed; then the next step is to put it in the polybag that has been provided.
4. After all the polybags are filled with soil, transfer the cayenne pepper shoots in the seedling bottle to the polybag.
5. At the time of this transfer, do it carefully so that the roots are not uprooted. Tips for you here! Before the transfer, do watering the shoots in the seedling bottle first so that it is easy to remove.
4. Chili Care
Treat chili until it can be harvested.
The last good and correct way to cultivate cayenne pepper is the treatment. After the chili has been successfully transferred, you have to take good care of it here! How to care for the cayenne pepper plant so that it can bear fruit quickly?
1. For the water needs of the chili plants to be fulfilled, you have to do watering in the morning or evening.
2. In caring for and cultivating plants, there are often pests that interfere. Well, you can eradicate it by giving organic pesticides here.
3. In addition, don't forget to give fertilizer!
4. After all treatments are carried out regularly. The chili can grow well and be ready to be harvested.