Want to start a cultivation business without renting land? Chili cultivation is the answer for you! The man from Yogyakarta has proven it!
Limited land and limited space are often barriers to doing something different at home, especially for farming.
Over time, technological developments and innovations in farming are well implemented.
One type of farming that is appropriate to be carried out on limited land is applying a hydroponic system.
Mr. Daliman also carried out the use of the system to carry out the process of planting chili in a village in Yogyakarta.
Suppose chili is often grown in highland locations. In that case, Mr.Daliman has tips and tricks for increasing chilies in narrow urban areas.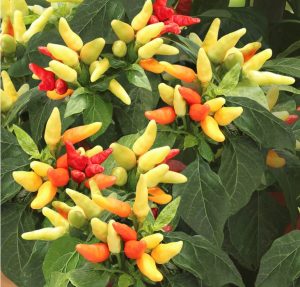 In contrast to planting mustard greens or other plants, according to Mr.Daliman, planting chili can be done continuously.
The sustainable harvest in the same plant, even one plant can harvest up to two years more if the nutrients and vitamins are met.
If you think the application of hydroponics is in an elegant minimalist home, this is a big mistake.
Mr.Daliman uses a lot of narrow land in his house in the Malioboro area, Yogyakarta.
He added that initially, it was very difficult to grow crops in urban areas. Many people and motorbikes are passing by.
However, the plant layout applied is very broad for farming with a hydroponic scheme.
With a limited size, the production and harvesting process continues to go according to plan, especially when the sun shines fully on the entire plant.
All the plants in this house are grown by many different types of Indonesian chili peppers.
Starting from red chilies, green chilies, colorful chilies, and types of curly chilies, all of them thrive in Mr.Daliman's yard.
Mr. Daliman said that the chili planted on the side of his house is sold to the public and consumed by the residents of the house.
Therefore, Mr. Daliman said that the chili could reduce the family's daily food expenses more efficiently.
Besides being functioned as a plant with economic value that can meet daily needs.
This type of hydroponic plant in chili also functioned as part of a comfortable and aesthetic home living fence.
Many chilies are ready to be harvested at any time with new and worthy conditions for sale from all sides of the house.
Chili cultivation is also relatively easy as one of the attractive profit coffers.
To produce chilies in large quantities, it is better if you buy planting media or large polybags.
The polybags must be at least 40×40 or 45×45 to be easier to pick during the harvesting process.
The importance of sunlight in the process of photosynthesis
For the planting process to run smoothly and easily, it is highly recommended that the placement of the plants be easily accessible by exposure to sunlight.
The better the sunlight, the better the chili yields will be.
UV plastic is needed to reduce the risk of rainwater
When planted in the rainy season, excessive rainwater is the enemy of almost all plants, including chili trees.
Therefore, Mr. Daliman covered some parts of the plant polybags with UV plastic, such as in rice fields, to reduce the risk of rainwater.
The fertilization process is carried out every two weeks to a month.
When farming, fertilization is very important, including when planting chilies.
The fertilization process is carried out in a span of two weeks to one month.
In addition to fertilization, the irrigation system is also very well considered to maintain nutrients and soil quality in farming.
After the fertilization stage, the chili harvesting process begins with an adjusted time.
According to Mr. Daliman, chilies that are ready to be harvested have a reddish-orange color.
Generally, the harvesting process is carried out more or less every two days with chili around one kilogram.
Besides being sold to the public, the chili harvest is also sold in Bantul Regency.
Mr. Daliman did not experience any problems in marketing and harvesting, especially the harvest sold to his brother there.
It can be concluded that growing chilies can also be an attractive option with hydroponic farming techniques at home.
You can also apply it further as a type of business or a fun hobby.