The South Jakarta City Food, Fisheries and Maritime Security Service train residents to cultivate chilli peppers to prevent increased commodity prices that contribute to inflation.
Oerip Syarifuddin, the Agricultural Extension Center coordinator for the South Jakarta City KPKP Sub-dept., said that the training activity lasted for one day, bringing in lecturers from the Vegetable Crops Research Institute (Blitsa) Lembang, Bandung.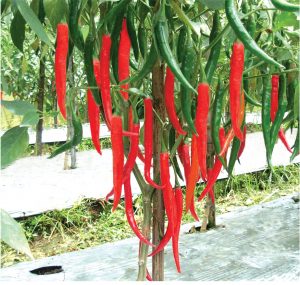 "The purpose of this activity is for people to plant chilies so that when chili prices are high, people don't feel restless," said Oerip.
Furthermore, Oerip said that residents and chilli commodity groups attended the technical guidance for chilli cultivation from 21 locations in South Jakarta.
Technical guidance activities (bimtek) were carried out at the Agricultural Extension Center, Jalan Poncol, Ragunan, South Jakarta City. Besides being given theoretical training, participants were also taught growing chillies with a zig-zag system.
"This system has one hole for two plants and the next one hole for two plants with a spacing of 50 cm x 70 cm," he said.
Participants were trained in chilli cultivation during the practice, from land cultivation and pest control to harvesting methods.
The type of commodity that is cultivated is white cayenne pepper because this type has advantages.
"The principle of cayenne pepper is the same, whether it's white or green, when it's old or ripe it's red," said Oerip.
After attending the training, the participants were also given chilli seeds with an amount adjusted to the area of ??land they registered for planting.
Meanwhile, data from the DKI Jakarta Central Statistics Agency (BPS) shows that inflation in October 2020 was recorded at 0.01 percent. The inflation rate was caused by rising prices, especially in the food and beverage provider group. Meanwhile, other dominant commodities contributing to inflation are red chillies and shallots.
For the second time, the KPKP office held training on farming and cultivation for free for the community.
In October 2020, training activities for growing vegetables and Cipedak avocados were also held to prevent residents from taking vacations during the COVID-19 pandemic.